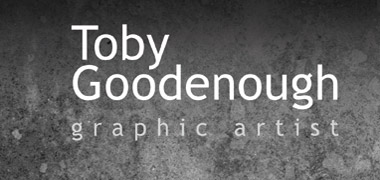 Bio
Growing up in Seattle, Washington, I was one of those kids who was always sketching, drawing imaginary sports cars and my dream house countless times. Later I began to experiment with painting, mixed media and photography. I've always had friends who inspired me to keep developing my skills. By my high school years I was taking life drawing classes at the local community college.
After high school I moved to the San Francisco Bay Area to attend California College of the Arts. I studied painting, graphic design, film and printmaking in addition to majoring in illustration. The amazing teachers and resources at CCA inspired me daily. At the same time, I learned a tremendous amount from my fellow students and friends. I was very excited to start my first art-related job while still in school, working as the resident artist for Rasputin Music on Telegraph Avenue in Berkeley, California. I had considerable opportunities at Rasputin to produce a broad array of images in many forms. I designed flyers, newspaper ads, coupons, section signs, collages, paintings, t-shirts and more. My next job was working for FastSigns Oakland, a sign shop specializing in Vinyl Banners and Signs. I learned to approach each design with the goal of using visual symbols to dynamically and concisely illustrate a theme, working on everything from restaurant menu boards to corporate graphics for trade shows.
While working nine to fives, I've always made time for some freelance illustration work on the side.  My first big project was creating 30 watercolor illustrations for the prize-winning Thai cookbook It Rains Fishes.  I later did pen and ink illustrations for its sequel Dancing Shrimp.  In my free time I practiced photography, acrylic painting on canvas and watercolor painting on paper.
I've always been obsessed with music, and my job at Rasputin only added fuel to the fire.  I began collecting music in vinyl form in my days at Rasputin and have been on the hunt for classic vinyl ever since.  In addition to being a fan, I also create my own music using drum machines, keyboards, computers and whatever else is on hand.  I like to think of my music as an instrumental combination of jazz, dub and hip-hop, with a focus on organic rhythms.
Recently I've spent more time focusing on digital image creation. I worked as the Scan Technician for High Speed Productions, publishers of skateboarding magazines "Thrasher" and "Slap" and the art magazine "Juxtapoz".  At High Speed I did the majority of the drum scanning, color correcting and image cleaning for the five magazines they published.  I mastered Photoshop and perfected many fundamental digital imaging skills, which helped me land my next job as a Color Correctionist for Bentley Publishing Group.  Here I completed the production work on over 1,000 photographic and fine art images to be offset and digitally printed resulting in over 1,000,000 printed posters.  My main production tool was Photoshop, which I used to color correct, crop, clone, composite and optimize these images for print and the web.  One of my primary duties was color correcting images to create both CMYK and RGB files which match the original paintings, photographs or transparencies.  The artists themselves often had the rights to final color approval of these digital images.
Now I'm spending more time focusing on photography. I shoot digital in the RAW format and then use Photoshop to process my images. Some of my favorite photos are of everyday things like weathered walls, curbs and industrial buildings. I often try to compose the photos so that they appear to be abstract paintings. These are available for sale printed on stretched canvas or paper. I recently completed a three and half month course in Web Design, studying XHTML, CSS, Dreamweaver and Flash. Beyond my own website, you can enjoy more of my web design mastery at artist Carolyn Goodenough's website:
In the future I'd love to continue to learn, create commercial and fine art, take photos, travel, read, eat great food, collect and create music and generally enjoy life!